Check out these battery lighted makeup mirror photos:
Festival kit


Image by jonanamary
A list of stuff I took to Bloodstock:
Gear
Ticket!!
Backpack
Sleeping bag
Rollmat
Travel pillow
Travel towel + little towel
Penknife
Tealights and matches/lighter
Torches x 3 (get new batteries)
Book
iPod
Camera
Disposable camera x two
Hat!!!
Sunglasses
Make contact with lenses
Bin bags
Notepad and biro
Telephone
Purse
Keys
Hazard tape
Camping chairs
Umbrella
Rug
Money belt?
Padlock (ask Fred)?
Playing cards
Garments
Moonsorrow t-shirt
Opeth t-shirt
Black vest top
Jeans
Cropped black trousers
Vans
Flip flops
Striped socks
Turquoise bag
Pants+socks x 5
Black H&ampM sleeveless tops x three
Nilbog t-shirt
Striped &amp black vest tops
PJ bottoms
T-shirt to sleep in
Pirate hat?
V mask?
Black shirt
Black v-neck jumper
Mac – ask at work???
Black bracelet
Star ear studs
Wellies
Fluffy socks
Food &amp drink
1l rum (decanted)
Crate of beer
Frusli bars
Juice cartons x 24
Beef jerky
Cool bag
Apples
Pretzels
2l water
Caek bars
Plastic plate and mug
Bread
Ham/cheese
Raisins
Nuts
Chewing gum
John West tuna lunch issues
Toiletries
Travel shampoo, conditioner
Shower gel travel size
Moisturiser
Razor
Makeup
Hairbrush
Toothbrush
Travel toothpaste
Mirror
Hand sanitiser
Sun cream
Facial wipes
Wet wipes
Aspirin/paracetamol
Pocket tissues
Loo paper
Earplugs
Eye mask
Hair ties
Glasses case
Nail clippers
Tweezers
Black eyeshadow
Witch hazel gel
Leave-in conditioner
Plasters
Antihistamine tablets
Deodorant!!!
…I never believe in travelling light!
morning sunlight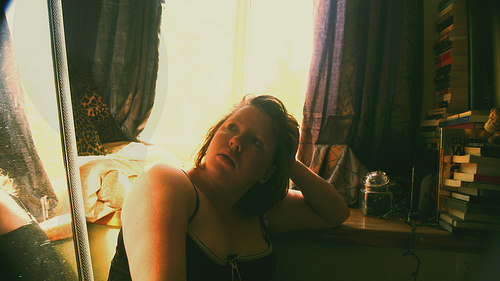 Image by he(art)geek
I occasionally wake up and actually want to capture the morning light pouring by way of my window but generally I am also rushed or I overlook. Effectively today I lastly made myself use this aforementioned light and….my battery died. 😛
This was the greatest shot out of a three shot ten second timer set. Sans makeup 🙂