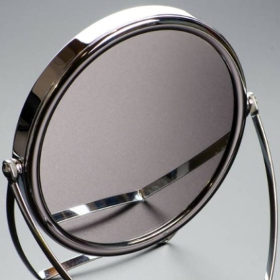 Magnifying Makeup Mirrors in China
Magnifying mirror is a critical tool for applying makeup and cosmetics. A large makeup mirror is good for general applications, and a smaller cosmetic mirror is better for travel or daily touch-ups.

Magnifying mirrors are superb tools for fine detail work such as lip liner, eyeliner, or multiple shades that require delicate blending to achieve the best results. Magnifying makeup mirror is also essential for covering fine lines and blemishes, and is particularly helpful for women with poor eyesight that may have to remove their glasses before applying makeup. Vanity mirrors can go up to 15 and even 20x magnification.

Over time, powders, oils, and sprays from cosmetics can cloud and smudge mirrors, limiting their effectiveness. If the buildup is especially bad, it can even lead to distortions. When cleaning a magnifying mirror, use streak-free glass cleaner and wipe gently to prevent scratches, nicks, or permanent damage that would cause distortions. If at all possible, avoid getting makeup directly on the vanity mirror.



Please select a category below to check products.