A few good bathroom sets pictures I identified:
059/365 Bathroom continued…


Image by david anderson : da-photography
I've posted a couple of shots of my ongoing bathroom more than the last couple of months:
This is a single of the taps –
www.flickr.com/pictures/venndiagram/4249159212/
This is the initial piece of tiling to go in –
www.flickr.com/photos/venndiagram/4231264453/
And this is what it looked like when I initially ripped out the old cardboard walls –
www.flickr.com/photographs/venndiagram/3955648189/
This new shot is &quotnearly completed&quot bathroom – there's a couple of bit of tiling to finish, and the shower to go in and have a screen fitted. However, it's deffo getting much better. I spent most of the day tiling the back wall, cutting the tiles to match round the circular shower manage was a monster.
Strobist: Hidden in this shot are two 430EXIIs, a single with a 1/4CTO and the other with a red gel. The 580EX on-camera was set to ETTL, so no clue what the readings had been, but the ratio was 1:1. It looked pinker than this, but there you go.
Setting 68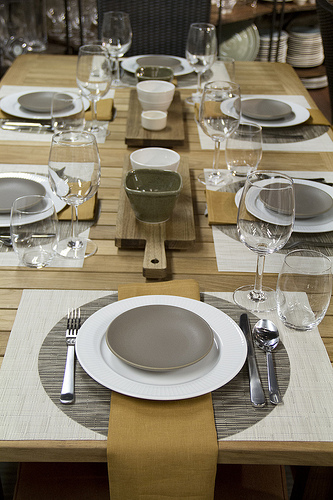 Image by Didriks
Featuring Chilewich Bamboo placemats, J.K. Adams Heritage Board, Simon Pearce Pottery, Pillivuyt Plisse plate, David Mellor Chelsea flatware, Heath Ceramics Bread plate, and Libeco Residence Vence napkin.
Table Setting 74


Image by Didriks
059/365 Bathroom continued…